A sweet cheese ball recipe is just what you need to get you in the holiday mood.  The holidays are approaching, so it's time to start planning those festive, delectable treats to share with loved ones. Regarding delightful party snacks, sweet cheese balls are a crowd-pleaser that will leave your guests craving more. Here, we've curated a list of some of the best sweet cheese ball recipes to consider as you prepare for the holidays.
Sweet cheese balls are incredibly versatile. You can customize them with various ingredients to suit your taste and the occasion. Whether you prefer chocolate, fruit, spices, or nuts, there's a sweet cheese ball recipe for everyone. They can be made in advance and stored in the refrigerator. This allows you to plan and prepare your holiday treats ahead of time, leaving you more relaxed and stress-free during the actual celebration.
17 Sweet Cheese Ball Recipes
White Chocolate Peppermint Cheese Ball by Artsy Fartsy Mama
Make a sweet cheese ball to share for the holidays. The combination of white chocolate and peppermint is perfect for a dessert at a party or to share on Christmas Eve. These treats are effortless to prepare, making them ideal for busy holiday preparations. You can create a stunning and delicious centerpiece for your dessert table with a few simple ingredients and some mixing.
Honey Cranberry Cheese Log by The Art of Natural Living
This elegant cheese log is sweet and creamy and has a lightly tart element thanks to the cranberries. You are sure to love this easy appetizer from the first bite.
Pineapple Cheese Ball by An Alli Event
Combine ultra-sweet pineapple with savory cheese ball ingredients to get a mashup of flavors that are so enticing! This is great as a starter or an after-dinner treat.
Birthday Cake Cheese Ball by Inspired by Charm
My son Chance loves birthday cake, anything.  This sweet cheese ball has the flavor of birthday cake in every bite.  These lovely cheese balls not only taste great but also look impressive. Rolling them in toppings or shaping them into festive forms can add a touch of holiday magic to your presentation.  Serve with cookies, pretzels, or fruit for a yummy snack worth sharing!
Christmas Chocolate Chip Cheese Ball by Fantabulosity
This festive-looking treat has chocolate chips, M&M candy, and peppermint to make a sweet treat everyone will love paired with hot cocoa.
Cinnamon Cheese Ball by This Silly Girl's Kitchen
Cream cheese, cinnamon, and crushed nuts make this cheese ball taste like a dream. Serve this as an after-dinner treat, or offer it to guests as a starter; either way, it will be a hit!
Chocolate Chip Football Cheese Ball by Belle of the Kitchen
If you are having a game day gathering, make this cheese ball a treat. It has yummy creamy chocolate chip and cream cheese flavor inside and is studded with chocolate chips on the outside. Everyone will cheer for this easy snack.
Banana Pudding Cheese Ball by This Silly Girl's Kitchen
Make a banana pudding cheese ball to mix things up a bit! This is so delicious and unique that no one can resist it!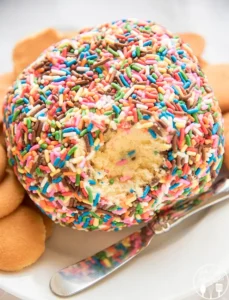 Cake Batter Cheese Ball by Like Mother Like Daughter
This colorful dessert cheese ball has a yummy cake batter flavor and pairs well with graham crackers, cookies, or pretzels. Serve this at a birthday party, or make it for a sweet snack to share at home.
Pecan Pie Cheese Ball by Spend with Pennies
This cheese ball has pecan pie mixed with cream cheese and rolled in pecans. You are going to love this gooey, sweet treat! Offer this at the holidays as a dessert, or take it to a party and watch it vanish!
Caramel Pecan Cheese Ball by Lauren Fit Foodie
This lightened-up dessert has sweet caramel crunchy nuts and pairs wonderfully with apples, cookies, or pretzels.
Candy Bar Cheese Ball by  Modern Honey
This cheese ball has loads of candy with a creamy, sweet cream cheese center. This is a great way to use leftover holiday candy! Make this for dessert or to share with friends after dinner.
Oreo Cream Cheese Ball by Knife and Paddle
This cheese ball is packed with sweet Oreo flavors! Roll this treat in white chocolate chips and serve with cookies or pretzels for the ultimate chocolatey dessert.
Sweet Turkey Cheese Ball by The Country Cook
Skip the pumpkin pie and make a sweet turkey cheese ball for Thanksgiving dessert. This is so easy to assemble but looks so cute that your family might gobble at the sight of it.
Bunny Butt Cheese Ball by Bitz  n Giggles
This sweet treat is so much fun to share. It looks like a bunny butt, but tastes amazing! Serve with vanilla wafers, pretzels, or shortbread.
Chocolate Chip Cheese Ball by Love Bakes Good Cakes
Pecans, cream cheese, and chocolate chips make this dessert yummy! With various textures and flavors, your friends and family will love this treat from the first bite.
S'mores Cheese Ball by Homemade Hooplah
This cheese ball is loaded with summer flavors in a mess-free package. Creamy chocolate is rolled in mini marshmallows and chocolate chips then served with graham crackers. You will love this easy, flavorful treat.
These sweet cheese ball recipes offer a delightful way to indulge in the holiday spirit. Whether hosting a festive soirée or bringing a treat to a potluck, these creations will surely be a hit. So, get your mixing bowls ready and your holiday playlist on – it's time to create these sweet, cheesy delights that will leave your guests craving more and spreading the season's joy.